Basement design and decoration : Home cinema and family room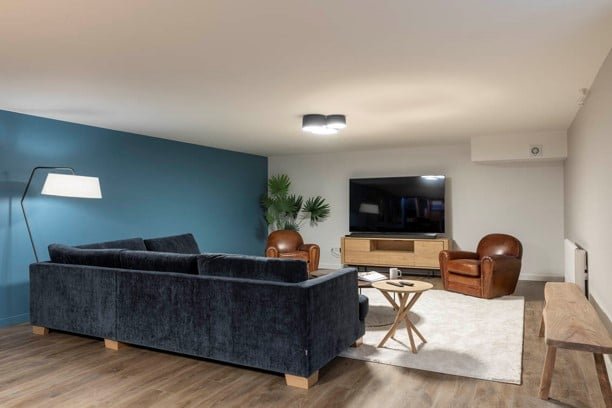 After moving into their new house, Mr. and Mrs. B contacted our agency to arrange a large room
empty in the basement. This room was cold and impersonal, and the clients wanted a friendly space to
the family.
Given the surface area, we decided to structure the room in two zones: a home cinema area and a
a library and board games corner.
The first act was to install a natural oak effect LVT floor covering to warm up the floor. Then we have
repainted the main wall in a luminous blue, which was immediately obvious, to bring cheerfulness and depth
to the room.
Our decorative project was inspired by the English clubs combining a table and family benches that we renovated
with comfortable and colorful furniture in a palette of blue and curry yellow.
On the home cinema side, a large comfortable corner sofa in velvet, club armchairs, nesting tables with a
with a large soft carpet invites you to relax.
On the opposite side of the room we created a large bookcase covering the entire wall to accommodate the many books
of the family. The furniture was made of mdf and then painted with light oak niche inserts.
A redesigned and user-friendly basement full of colors!
Achievements in decoration and interior design